The travel and accommodation market in particular has been severely affected by the ongoing covid pandemic. Therefore it is a challenge to find comparable numbers for an analysis. Nevertheless, several spot checks have enabled us to create a benchmark.
The cosmopolitan city of Munich is one of Europe's most populous cities. More than 2.9 million people currently live in the Munich metropolitan area. The Bavarian state capital holds an internationally outstanding position, thanks to its economic infrastructure: numerous globally active corporations have their headquarters there.
Download a full summary of this report here.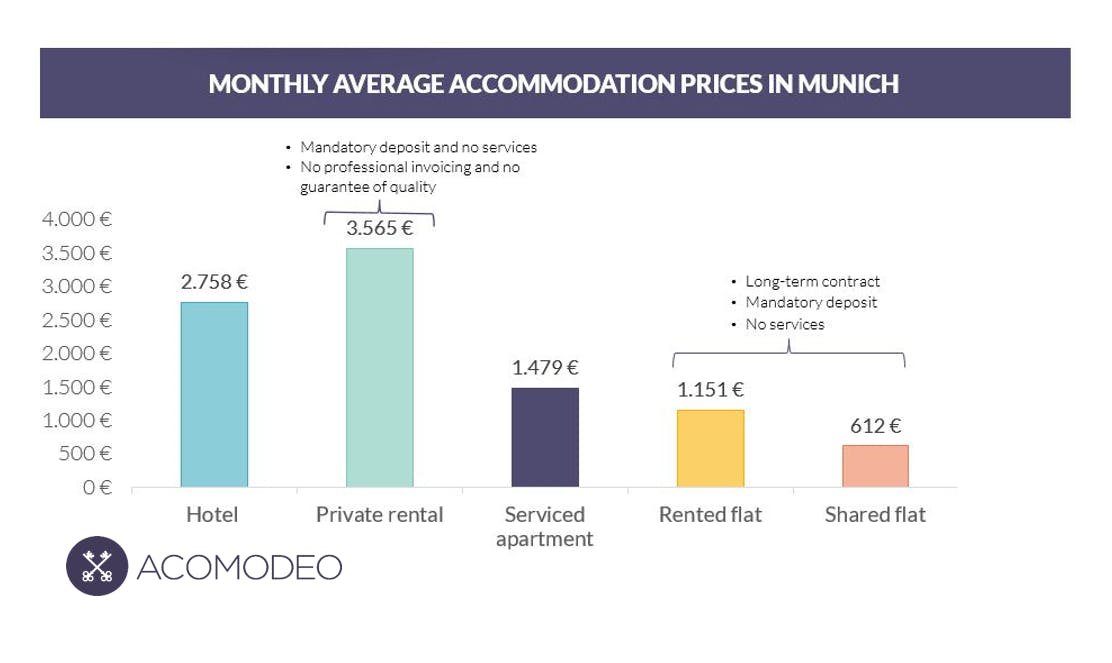 While offering hotel-level of service but including more space and comfort, serviced apartments proved to be the first accommodation choice for the business traveler staying in Munich. The price of a serviced apartment Munich was 1,479€. This is lower than for a comparable hotel room and private rental accommodation options.
Serviced apartments are fully furnished and equipped with a kitchen/kitchenette, offering the freedom to prepare home-made meals. Furthermore, professional invoicing, WiFi, cleaning service, additional facilities (e.g. gym and restaurant) are often included. Besides deposits are not mandatory and stay extensions can easily be arranged, which grants a higher level of flexibility for extended stays and "bleisure". Serviced apartments at Acomodeo are managed exclusively by professional operators that meet all safety and health measures set by the local regulations.
Would you like to know more about service apartments, the benefits and the additional value it can bring ? Contact our account specialists at sales@acomodeo.com or +49 69 400 500 320 to find out about the value and opportunities for your travel destinations.
Data sample: Prices for 31 days in December 2020 in Munich.
Hotel: 3 - 4 stars; including Wi-Fi, cleaning service.
Serviced apartment: Average booked price via Acomodeo in 2020; including cleaning service & WiFi.
Private rental: Entire living space; including cleaning service; deposit not included in the price.
Rented flat: Spot check for a 68sqm flat; unfurnished; including ancillary costs; excluding WiFi; no short term rental possible; limited offer in this price category; deposit and agency fees not included in the price.
Shared flat: unfurnished; including ancillary costs; without deposit, no short term rental possible; limited offer for this price category. Deposit and agency fees not included in the price.