LONDON CITY SPECIAL REPORT
London is one of the most populous cities in Europe. While the history of the capital of Great Britain goes back to 50 A.D., today it is regarded as one of the world's most important business locations and is home to major British banks. The city receives worldwide attention among others ,thanks to the location of the British royal family's main residence, Buckingham Palace.
Download a full summary of this report.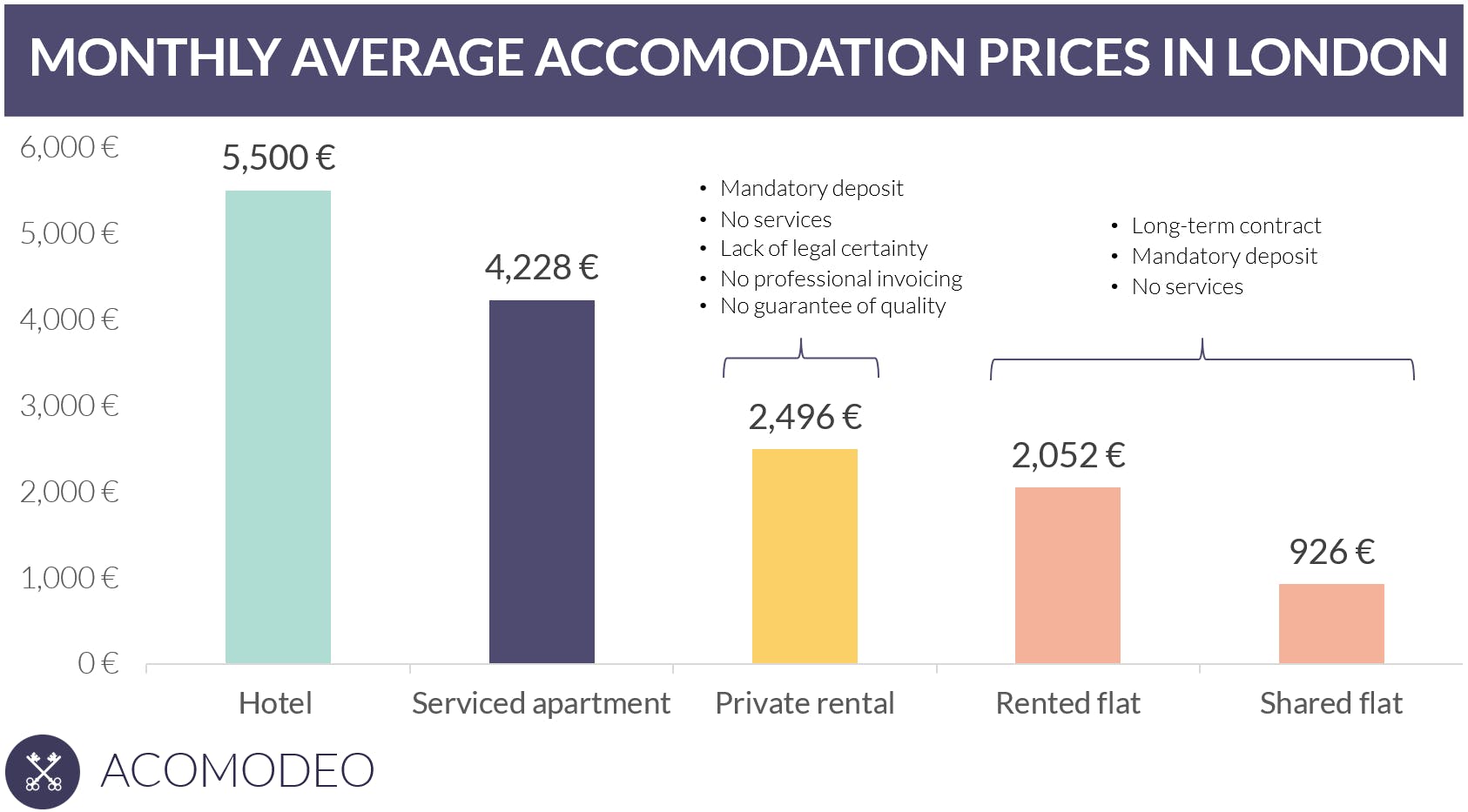 While offering hotel-level of service but including more space and comfort, serviced apartments proved to be the first accommodation choice for the business traveler staying in London. The price of a serviced apartment in London was 4,228€. This is lower than for a comparable hotel room but higher than private rental options. The offered level of professionalism and service are a few reasons for this premium.
Serviced apartments are fully furnished and equipped with a kitchen/kitchenette, offering the freedom to prepare home-made meals. Furthermore, professional invoicing, WiFi, cleaning service, additional facilities (e.g. gym and restaurant) are often included. Besides deposits are not mandatory and stay extensions can easily be arranged, which grants a higher level of flexibility for extended stays and "bleisure". Serviced apartments at Acomodeo are managed exclusively by professional operators that meet all safety and health measures set by the local regulations.
Would you like to know how much your company can save on accommodation costs? Contact our account specialists at sales@acomodeo.com or +49 69 400 500 320 to find out the savings potential for your travel destinations.

Data sample: Prices for 31 days in August 2020 in London city.
Hotel: 3 - 4 stars; including Wi-Fi, cleaning service.
Serviced apartment: Average booked price via Acomodeo in 2019; including cleaning service & WiFi.
Private rental: Entire living space; including cleaning service; deposit not included in the price.
Rented flat: Spot check on rightmove.co.uk for a rented flat; unfurnished; including ancillary costs; excluding WiFi; without deposit; no short term rental possible; limited offer in this price category. Deposit and agency fees not included in the price.
Shared flat: Spot check on spareroom.co.uk; unfurnished; including ancillary costs; without deposit, no short term rental possible; limited offer for this price category. Deposit and agency fees not included in the price.
Exchange rate GBP/EUR: 1,11