VIENNA CITY SPECIAL REPORT
The Austrian capital not only plays an important role in the global economy, it also has a rich cultural heritage. For travelers worldwide Vienna is a renowned congress city and an increasingly popular place to live, capable of offering a high quality of life.
Download a full summary of this report.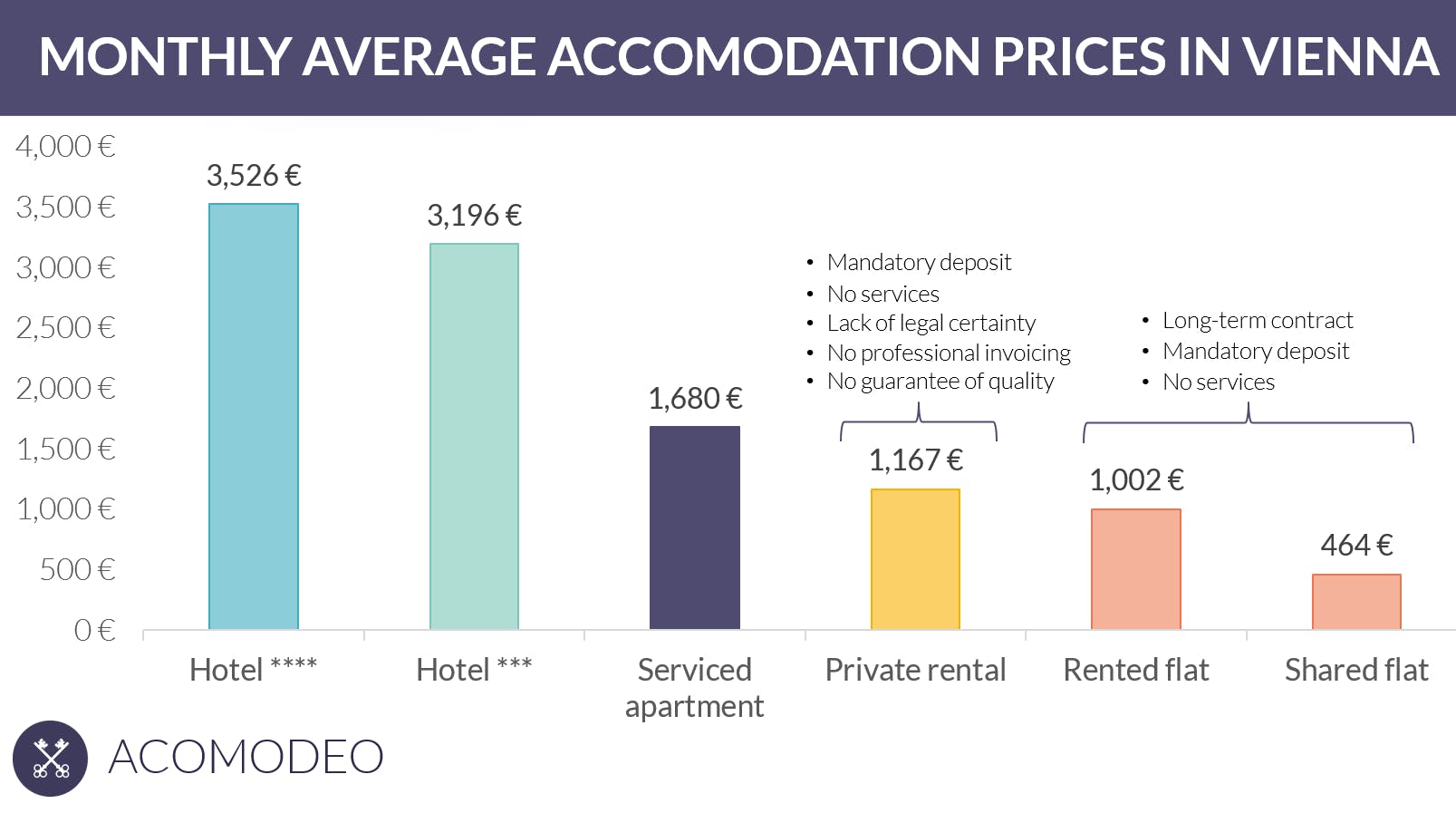 Offering the same services as in hotels, but more space serviced apartments are a favorable accommodation. Average booked price for a serviced apartment in Vienna city centre in 2019 was 1.680 Euro, so lower than hotels but more expensive than private rental options and renting a flat. Professional invoicing, Wi-Fi, cleaning service and optional breakfasts are included. As all serviced apartments are equipped with a kitchen/kitchenette preparing food is never an issue. Furthermore no deposit is charged and short to long stays can be arranged, with the higher flexibility of being able to extend any stay for days or even months.
Would you like to know how much your company can save on accommodation costs? Contact our account specialists at sales@acomodeo.com or +49 69 400 500 320 to find out the savings potential for your travel destinations.

Data sample: Prices for 30 days in April 2020 in Vienna city centre.
Hotel: 3 & 4 stars; including Wi-Fi, cleaning service; without breakfast.
Serviced apartment: Average booked price via Acomodeo in 2019; including cleaning service, WI-Fi; without breakfast.
Private rental: Entire living space; including cleaning service; without deposit.
Rented flat: Spot check on Wohnungsboerse.net for a 68 sqm flat; unfurnished; including ancillary costs; excluding Wi-Fi; without deposit; no short term rental possible; limited offer in this price category.
Shared flat: Spot check on Housinganywhere.com; unfurnished; excluding ancillary costs; without deposit, no short term rental possibl; limited offer for this price category.